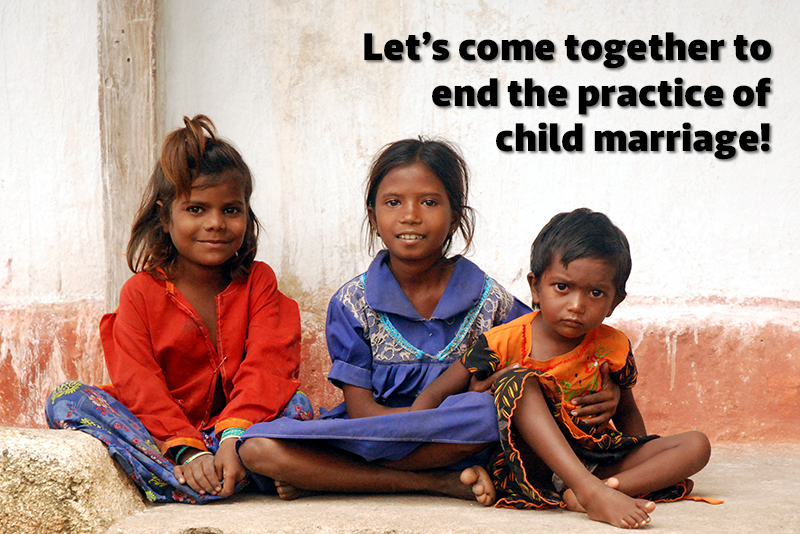 According to UNICEF 2014, one in three child brides worldwide are from India. Child marriage is one of the most prevalent forms of violation of child rights. Often the daughters majorly from rural areas or developing states are married off at an early age to reduce the financial burden from the family. The prevalence of this practice varies throughout all Indian states, although it is most pronounced in Rajasthan, Madhya Pradesh, Bihar, Uttar Pradesh, Jharkhand, Haryana, Karnataka, Andhra Pradesh, and Tamil Nadu.
With millions of girls forced into marriage every year, the practice is not only illegal but also has detrimental effects on their lives. Child marriage often leads to a lifetime of hardship for the girl. She is likely to drop out of school, have children at a young age, and suffer from health problems. CRY, aims to work with the communities and put an end to this harmful tradition.
One of the main reasons for the persistence of child marriage in India is poverty. Many families in rural areas see marriage as a way to secure the financial future of their daughters. Another reason for the persistence of child marriage is the lack of education for India's children and awareness about the issue. Many families are not aware that child marriage is illegal and that it is harmful to their daughters.
India has about 12 million married children, 70% of whom are female, according to the 2011 Census. Child marriage deprives children from their fundamental rights such as access to education and good health and nutrition.
To combat this issue, we at CRY are working towards raising awareness by conducting online sessions with adolescent girls, educating families, Panchayat leaders and VCPC members, connecting parents with MNREGA job opportunities, and organising visits to high-risk homes. We also track potential impending cases of child marriages and get help from the police to stop them.
You can help us in solving this critical problem. Let's come together to end the practice of child marriage in India. It is time for us to stand up for the rights of young girls and ensure that they have the opportunity to lead safe and healthy lives. Donate to CRY UK to help underprivileged girls avoid child marriage. Your assistance may help India's daughters have a better chance at the future. Donate to CRY UK right away!